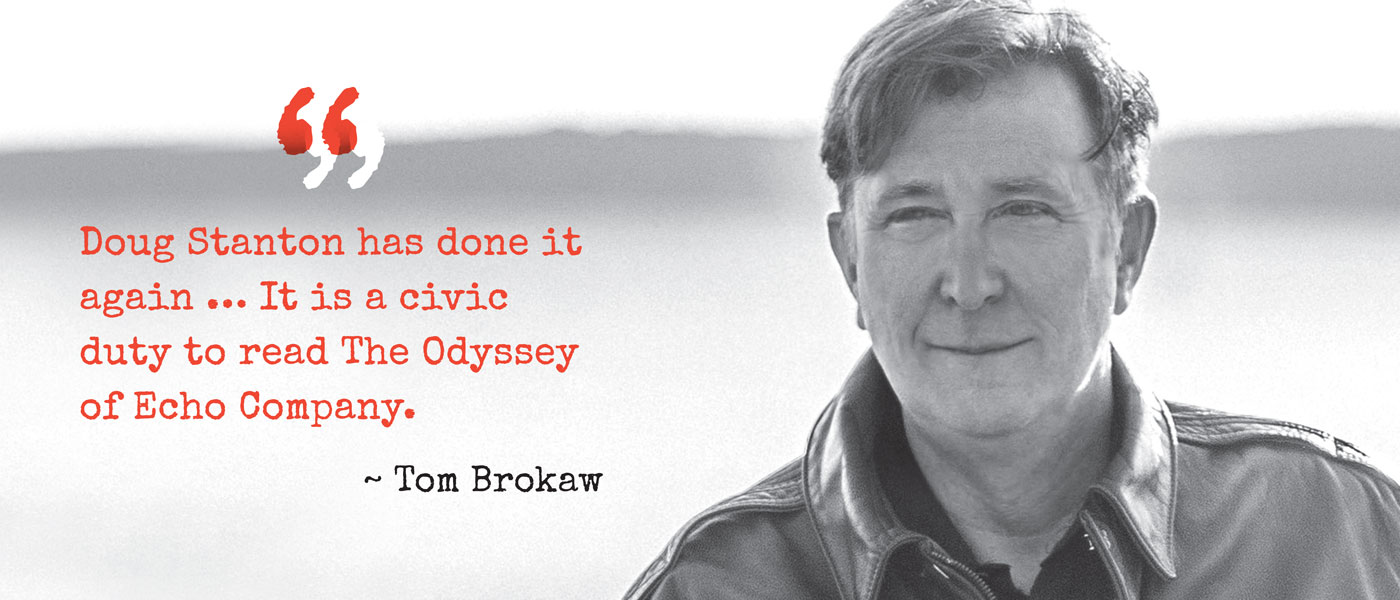 Monday, June 8th –  2018
Traverse City Opera House
7PM // Doors at 6PM
Live Music, Cash Bar, and Morsels Sweet Treats
Q&A with book signing post event
An 'Echo' Heard 50 Years Later: Doug Stanton writes a riveting account of a platoon's 60-day fight for survival during the Tet and its return home.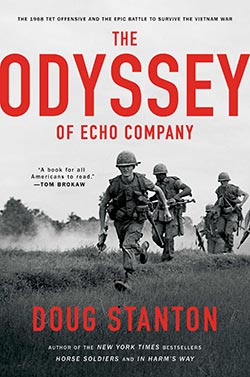 ABOUT AUTHOR DOUG STANTON
National Writers Series Co-Founder Doug Stanton is the critically acclaimed author of two New York Times bestselling nonfiction books: his 2001 breakout work, In Harm's Way, about the sinking of the U.S.S. Indianapolis, and 2009's Horse Soldiers, named a "Notable Book" by The New York Times and currently in development as a Jerry Bruckheimer-produced film starring Chris Hemsworth and Michael Shannon.
Stanton joins his editor, Colin Harrison, to talk about his new book, The Odyssey of Echo Company: The 1968 Tet Offensive and the Epic Battle of Echo Company to Survive the Vietnam War. When the North Vietnamese began bombarding 36 cities scattered across South Vietnam—an infamous campaign known as the Tet Offensive—the war escalated to previously unmatched heights. Causing major alarm back in the States, it would be a turning point in the public's tolerance of the war.
Back on the front lines, U.S. and South Vietnamese troops fought for their lives. Of those entangled in the offensive, many perished. Those who returned home were greeted with disdain or disregard.
Now the remarkable story of a small platoon called Echo Company will be told. Stanton conducted first-person interviews with soldiers, traveled to former battlegrounds, and pored over letters sent to and from Echo Company, as well as an abundance of Pentagon reports, photographs, and filmed footage. The story ends with one soldier finding closure in the country where it all began.
Stanton, a Traverse City native, has written on subjects ranging from travel and sports to history and entertainment. His writing has appeared in Esquire, the New York Times, TIME, Men's Journal, the Washington Post, and Outside Magazine—whose founding editor, Terry McDonell, will take the NWS stage in October. He lectures nationally and has taught creative writing and English at the undergraduate and graduate levels. He and his wife, Anne, have three children and live in Traverse City.
ABOUT GUEST HOST COLIN HARRISON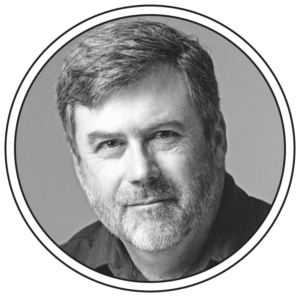 Colin Harrison is the author of eight novels and editor-in-chief at Scribner. His books are psychological thrillers set in New York City and involve men and women and the dangers and lures of the great city. His latest, You Belong to Me, was described in a New York Times book review as "deliciously twisted, and, intermittently, startlingly violent."
Four of his books have been selected as Notable Books by The New York Times Book Review. Harrison was formerly an editor at Harper's Magazine between 1989 and 2001, where he worked with some of contemporary literature's most illustrious talents including David Foster Wallace, Jonathan Franzen, and Sebastian Junger.
Harrison's novels include Afterburn, Manhattan Nocturne, Bodies Electric, and Risk, which was originally published serially in The New York Times Magazine in 2008. His nonfiction has been published by The New York Times, New York Magazine, The Washington Post, The Chicago Tribune, and Vogue. He attended the Iowa Writers' Workshop, where he earned an MFA in 1986.