Bob Sloan is the author of six cookbooks, including The Working Stiff's Cookbook, Dad's Own Cookbook, The Tailgating Cookbook, Dad Cooks Up a Party, Dad's Awesome Grilling Book, and Great Burgers. His series of detective novels feature the melancholic yet bemused NYPD homicide detective Lenny Bliss. He has spent his summers in Northport long enough to have shopped in Dame's.
What's the single biggest mistake people make in prepping their meat to grill? Meat not at room temperature, for instance?
Not letting the meat come to room temp before grilling is a common mistake, making it more difficult to get the perfect medium-rare result. Similarly, not allowing the cooked meat to rest for about 6 minutes right after grilling. This allows the juices to reabsorb into the meat so they don't run out once you start slicing.
What's the one thing you can do to help insure the grilled meat turns out, if there is such a step? Marinade or not to marinade?
Marinades help, but a more assertive way to impart flavor is by mopping the meat with reserved marinade during the last few minutes of grilling. Turn the heat down on a gas grill or move what you're cooking to a cooler part of the charcoal grill and brush on the sauce several times, turning after each application and being attentive not to let the meat caramelize too much.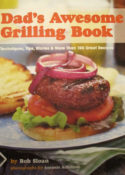 Gas or wood? Is it even a debate anymore?
The two advantages of charcoal are being able to make a really hot fire to get a true sear and being able to make a really low fire to use your kettle grill as a smoker. Other than that, a well constructed gas grill with a thick shell to keep in the heat is as versatile as a charcoal grill.
From your cookbooks, what grilled meat recipe would you recommend to kick off summer?
CARNE ASADA
4 dried Ancho chiles, stemmed and seeded
4 dried New Mexico chiles, stemmed and seeded
Small can whole tomatoes
Small onion, coarsely chopped
4 scallions, chopped
8 garlic cloves
1/2 cup chopped cilantro
2 tablespoons olive oil
2 tablespoons sugar
1 tablespoon balsamic vinegar
1 tablespoon cumin
Salt
1 3/4 pounds skirt steak
2 tablespoons lime juice
Serves 4
Roast the stemmed and seeded chiles in a dry pan over med-high heat until they start to release their perfume, about 20 seconds. Transfer to a bowl and cover with boiling water. Let them soak until they are soft, about 20 minutes.
Put the reconstituted chiles in the jar of a blender and add the onion, Sauté the tomatoes, onion, scallions, garlic, cilantro, olive oil, balsamic, sugar, cumin and salt and puree until just smooth.
Thickly coat both sides of the skirt steak with the sauce, reserving 1/2 cup, and let the steak sit for 1 hour at room temperature or in the refrigerator overnight.
Grill the skirt steak over hot coals for 5 minutes, turn, and grill 5-6 minutes more for medium. Brush both sides of the meat with the remaining sauce during the last few minutes of grilling.
Let meat rest for 6 minutes, then cut into thin slices. Squeeze on some lime juice and garnish with coarsely chopped fresh cilantro before serving.
Note: This recipe also works beautifully with flank steak or pork tenderloins. Just adjust the grilling time.