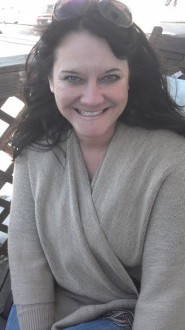 Joy Frawley – an author who can write everywhere and enjoys hanging out in Traverse City with her two canine companions.
Joy Frawley is the author of Two Worlds Two Men and has had articles published in the Christian Science Monitor and Grand Traverse Woman. Joy lives in beautiful Traverse City, Michigan relishing in the life of the classic "townie" with her two dogs Piggs and Diggs.
How did you become a writer?
I basically got a storyline in my head and sat down one day to write it down. Once I started I never stopped! I was surprised how intoxicating it was to create characters and to put a fantasy world on paper. After I finished Two Worlds Two Men I decided to learn about the literary business and attempt to get my book published. I am happy to say I managed to accomplish that goal and it has been a wonderful experience.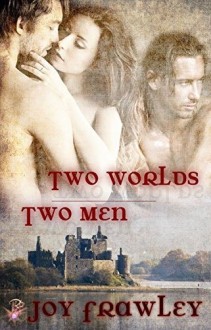 How do you write? What is your process?
I am quite flexible where I write and you can find me with my laptop almost anywhere. Some days I like to be around others and enjoy coffee shops and people watching while I work. Other days you may find me in my home at my desk where I have an incredible view of the lake. I typically type until I run out of inspiration or energy to continue. If I need to stop working on a manuscript I usually will jot down notes to myself on where I want to pick up the next day and give myself details while they are fresh in my mind. I often do brief outlines, which also help me stay on track and not forget major components I wish to include in a manuscript.
Who are your favorite authors?
I enjoy reading Frances Mayes, Anne Morrow Lindbergh and Patricia Cornwell.
What authors have inspired you?
Gifts from the Sea by Anne Morrow Lindbergh has always been one of my favorite books because she shared her soul with honesty. The book is something I believe most women would find intriguing and valuable.
What books are on your bedside table?
Right now I am reading Flesh and Blood by Patricia Cornwell. I simply adore her character Dr. Kay Scarpetta. The entire series keeps me on my toes!
What writing projects do you have planned next?
I am working on a non-fiction book about overcoming fears in order to pursue our passions.
What advice do you have for young writers?
It's important to press onward in your goal of becoming published even when it seems hopeless. Regardless of whether you get published by a publishing company or go the self-publishing route there are lots of options out there for you. You can be creative and take the time to research which route you want to go and pursue it with creativity.
Your latest book information:
Two Worlds Two Men is a Scottish time travel romance. A romantic love triangle steeped in folklore and superstition; where life begins and often ends with the sword. As Jocelyn travels back to medieval times she learns that the man she keeps seeing is no other than Sir Colin Campbell of the powerful Campbell Clan. When Jocelyn is with Colin, she wants never to leave his side; then she returns to the present and cannot imagine herself with anyone but Neely. Jocelyn struggles with a choice. Which man will gain her heart when both offer such different love? She is in love with two different men in two different worlds. It's available as an e-book  or at amazon for $3.99.