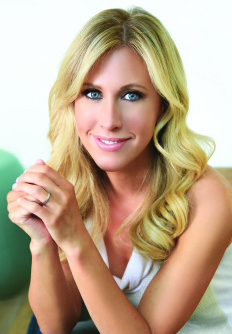 Bestselling author Emily Giffin graced the National Writers Series last May to discuss her latest book, The One and Only, and her success writing "chick lit."
But the sports aficionado could just as easily have come to Traverse City, Michigan, to talk about college basketball.
Giffin isn't afraid to use gridiron or basketball court metaphors on stage. She was a manager of the basketball team while getting her undergraduate degree from Wake Forest. She counts college basketball legend Ralph Sampson and Syracuse coach Jim Boeheim among her good friends.
With the 2015 NCAA Basketball Tournament kicking off this week, we thought it would be appropriate to ask Giffin about "March Madness" and who she picks to cut down the nets in a couple weeks.
National Writers Series: Who's gonna win this year's NCAA Men's Basketball Tournament?
Emily Giffin: Kentucky is undeniably the best team in the country, but I'm going with Virginia, a number two seed but still a huge underdog. They happen to be my sentimental favorite because I grew up a Cavalier fan (Ralph Sampson was my childhood idol) and then went to law school there. But it's their plodding pace, excellent defense, and low turnover rate that I think makes them the most likely team to break the Cats' rhythm and fluster them into taking undesirable jumpers. If Virginia can keep the score under 60, I see them winning the title.
NWS: Kentucky is undefeated. How did that happen?
Giffin: They are really, really good — and very deep. They have 10 guys who could start anywhere in the country. That said, you also need a little bit of luck to be undefeated in March — and a lot of luck to remain that way in April!
NWS: Have you always been a big basketball fan?
Giffin: Pretty much. I've been filling out brackets since 1981 — when I was in the third grade and Virginia made the Final Four. In fact, whenever I think of Ronald Reagan getting shot, I think of how the championship game was delayed that year. I was an obsessed kid! I then went on to be the basketball manager at Wake Forest during the Tim Duncan era — which was an amazing experience. As an adult, college hoops has remained a passion, and I recently had the honor of writing Ralph Sampson's Hall of Fame induction essay.
NWS: Who's more likely to show up in your next novel: a lightning-fast point guard, a bruising power forward or a hot-headed coach?
Giffin: Well, I featured a coach in The One and Only — so I think I might take a break from sports stories for a while! But if I had to pick, I think guards are more interesting than forwards (and more likely to be head cases which are always more interesting to write about). Incidentally, I also believe that no matter how talented your team is inside, you can't consistently win without solid guard play.
NWS: What's your ideal way to watch the games? Are you curled up at home with popcorn or a beer? Or out with friends?
Giffin: Both. All of the above. Early rounds are best at sports bars so you can watch multiple games at once. When I was lawyer, I ran our firm's pool and always took the first two days of the tournament off so I could catch all the action. But now, I also love watching with my kids at home. Our family pool is pretty fierce — with a lot of allowance dollars at stake! Nothing beats March Madness!