CHECK OUT BOOKMANIA WEEK! One mind-blowing, page-turning week of books and authors in downtown Traverse City, Michigan. Six Authors in Six Days = Endless Conversations!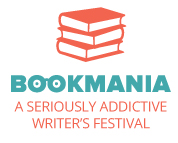 Join the conversation with America's best authors and meet your friends. It's the power of story to build community.
BOOKMANIA SWAP! Hey BookManiacs, bring your favorite book to the event before the show starts and pick up a new one! 
RESTAURANT PROMOS! Ticket holders can enjoy "great conversations" and save money, too. Check out the great savings below from six hugely generous restaurants. 
LOOK WHO'S COMING
ENJOY GREAT CONVERSATIONS AT AREA RESTAURANTS!!
BookMania Week ticket holders can enjoy SPECIAL RESTAURANT PROMOTIONS during BookMania week …
For the ENTIRE BookMania Week, Amical will give a 25 percent discount to all ticket holders, excluding their meal specials.
For the ENTIRE BookMania Week, Zakey's will give a 20% discount to ticket holders. On Sarah Chayes's event night, Zakey's has promised to stay open until 10 pm.
Reflect Bistro at Cambria Hotel is supporting the Ben Sidran Oct. 11 event with an all-day 15% discount.
Enjoy a meal all day at Georgina's at a 30% all-day discount an Oct. 13, when Bonnie Jo Campbell takes the stage.
Pepenoro is providing yummy bites of bruschetta at Mardi Jo Link's event. Refreshments will also be served.
For Vanessa Diffenbaugh, Poppycock's will stay late for ticket holders who would like to "continue the conversation" … and offer a 20% discount.
And … LIVE MUSIC! CASH BAR AT THE CITY OPERA HOUSE! MORSELS!