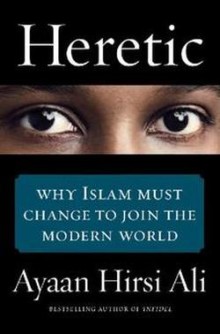 Ayaan Hirsi Ali's new book, Heretic: Why Islam Must Change to Join the Modern World, hits bookstores tomorrow. Hirsi Ali made a National Writers Series appearance in 2012  speaking with guest host Jack Segal before a sold-out audience at the City Opera House in Traverse City.
Listen to Hirsi Ali's 2012 NWS event
In her March 22, 2015 New York Post article, In Islam, They Are All Rotten Apples: Ex-Muslim's Call for Religion's Reboot, journalist Maureen Callahan wrote:
"In Heretic, Ali is calling on those Muslims who reject jihad, acts of terror, and the subjugation of women and infidels to organize, to challenge, to speak out loudly and often against violence committed in the name of Allah — and she is calling on the West to actively demand it."
Hirsi Ali was also featured in the March 19, 2015 New York Times Book Review "Ayaan Hirsi Ali: By the Book" in which she shared her favorite authors, books she read while growing up, and what books are currently on her nightstand.