Fourth and fifth graders, along with their parents and team coaches, packed the basement of Horizon Books on Dec. 18 to pick up their free packet of 10 books for the competition. They enjoyed hot chocolate, snacks, and the friendly company of other readers. There are 26 teams in all!  The final competition will take place on March 20 at Lars Hockstad and feature a conversation with Tui Sutherland, a popular children's author books in the Warriors, Seekers, Wings of Fire, The Menagerie, and Spirit Animals series.
Battle of the Books is a book-based quiz competition for fourth and fifth graders living in Grand Traverse County. Every student—home-schooled, private or public—is eligible and there is no cost to participate or to buy books. TO SIGN UP YOUR TEAM (YOU'LL NEED FOUR TO SIX KIDS PLUS A COACH), PLEASE CLICK HERE.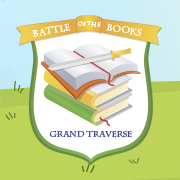 HOW IT WORKS
Kids will read pre-selected books together in small teams of four to six and then engage in a quiz-bowl style competition on March 12 to test their knowledge of the books they've read. Two teams will emerge from the quiz bowl as the two finalists. The final battle will take place on March 20th.
New York Times bestselling author Tui Sutherland will attend the championship tournament and award a trophy to the winning Battle of the Books team. After a short break, she'll take the stage to talk about all the books she's written and how kids can too! (Read more on Ms. Sutherland below)!  At the end of the talk, kids can meet Sutherland in person and get their favorite book signed!
The first-place team will win a Grand Traverse Day Experience unlike any other (Think: limo ride, chocolate chip pancakes, and a host of other delights).
The Battle season is a great opportunity for 4th and 5th grad students to read together, learn together, and dream together. It's also fun way to stay engaged during the cold Michigan winters!
ABOUT TUI SUTHERLAND: Sutherland is part of the Erin Hunter team of writers that wrote the bestselling Warriors and Seekers books. (We know, confusing, but Erin Hunter isn't actually a person, but a group of amazing writers). She has authored 30 books in all, including the Wings of Fire and Avatar series, along with the Menagerie series with her sister. Battle of the Books kids will read a Menagerie book for the upcoming battle.
To find out more, visit www.battleofthebooksgt.com.