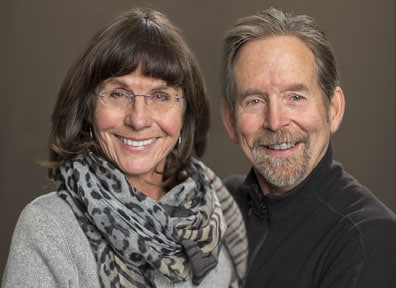 Greg Holmes and Katherine Roth – a husband and wife team who beat the odds and share their remarkable journey.
On April 1st, 2004 Greg Holmes, Ph.D., was diagnosed with sinonasal undifferentiated cancer, an extremely rare and deadly cancer. At the time of his diagnosis, his wife Katherine Roth, M.D., was fighting to survive as a family physician in a medical profession that ostracized her for her beliefs in alternative medicine. Holmes, who is a psychologist, was able to survive in large part due to the interventions of his wife. Greg and Katherine have written a detailed account of his cancer treatment in their memoir The Good Fight: A Story of Cancer, Love, and Triumph.
Katherine is a board certified family physician with 15 years of experience in medical education as the associate director of a family medicine residency program. She is currently in practice in Traverse City where she is a much sought after expert in the field of integrative medicine.
How did you become a writer?
Katherine has enjoyed journaling and writing poetry for most of her life. We began to write this book after I recovered from cancer.
How do you write? What is your process?
We wrote parts of our book separately, using Katherine's journals as a guide. The separate parts were then spliced together by our editor.
Who are your favorite authors?
Salinger, Heller, Atwood, Kingsolver, Goethe
What authors have inspired you?
Steinbeck, Dostoevsky, Emerson
What books are on your bedside table?
Transatlantic, by Colum McCann, and The Paris Wife, by Paula McLain
What writing projects do you have planned next?
We are currently writing on our blog site, which can be found at tcparadox.com.
What advice do you have for young writers?
To follow your heart, and only write about those things that you are truly passionate about.
Latest book information
Told from alternating perspectives, The Good Fight: A Story of Cancer, Love, and Triumph. is a memoir of how Greg and Katherine faced a devastating diagnosis, underwent a grueling course of traditional therapy, and scrambled to find alternative treatments for his cancer. More than a personal story of survival, The Good Fight provides insights on how to treat cancer with nutrition and complementary therapies. At its heart, The Good Fight is a memoir about the power of love
It is available at the Horizon Bookstores in Traverse City, Cadillac, and Petoskey, at Brilliant Books in Traverse City, and on Amazon in hard cover as well as Kindle format.Visit their website/blog