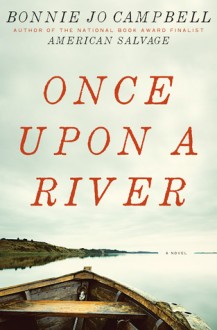 Michigan's Author for 2012, Bonnie Jo Campbell, will be performing with 3 actors in a special reading from Once Upon A River on Saturday, August 18 at 2:00 pm at Horizon Books of Traverse City.
Bonnie Jo Campbell will be reading the narration, and Esme Bloomquist will be reading Margo, the main character.  Joe Kilpatrick will be reading Brian, an important male in Margo's life, and Steven C. Smith will be reading Paul, Brian's brother.  Once Upon A River is a Michigan Notable Book for 2012.
Bonnie Jo Campbell has created an unforgettable heroine in sixteen-year-old Margo Crane, a beauty whose unflinching gaze and uncanny ability with a rifle have not made her life any easier. After the violent death of her father, in which she is complicit, Margo takes to the Stark River in her boat, with only a few supplies and a biography of Annie Oakley, in search of her vanished mother.
But the river, Margo's childhood paradise, is a dangerous place for a young woman traveling alone, and she must be strong to survive, using her knowledge of the natural world and her ability to look unsparingly into the hearts of those around her. Her river odyssey through rural Michigan becomes a defining journey, one that leads her beyond self-preservation and to the decision of what price she is willing to pay for her choices.
For more information, contact Jill Beauchamp